In this pandemic situation, all companies are trying to share useful and correct knowledge about COVID-19. Social media websites also have an eagle eye on every COVID-19 related content and taking action as it is available to the public. On the other hand, David Icke (a former Footballer and English conspiracy theorist) is sharing the content about COVID-19 and linking the spreading of Coronavirus with 5G and Jewish groups. Youtube explained to BBC;
1. David Icke's YouTube Channel
"YouTube has clear policies prohibiting any content that disputes the existence and transmission of Covid-19 as described by the WHO and the NHS."
A video-sharing site also added, "Due to continued violation of these policies we have terminated Icke's YouTube channel."
Read Also: Google will help Doctors for Patients' Medical History
Icke tweeted on his official account on twitter after the deletion of YouTube Channel by YouTube.
YouTube delete David Icke – the man the Elite are terrified of – after complaint from @CCDHate. The reason is made-up. Where are you gutless media? Silent or cheering. pic.twitter.com/JG7Yd6wIKH

— David Icke (@davidicke) May 2, 2020
2. David Icke's Facebook Official Page
Same as FaceBook also deleted the Official Page of David Icke and release a letter to explain all other social media websites to delete the account of David Icke.
Leading medicine and broadcasters, including Dr. Christian Jason and former junior Dr. Adam Key, have called on social networks to remove Icke from their platforms.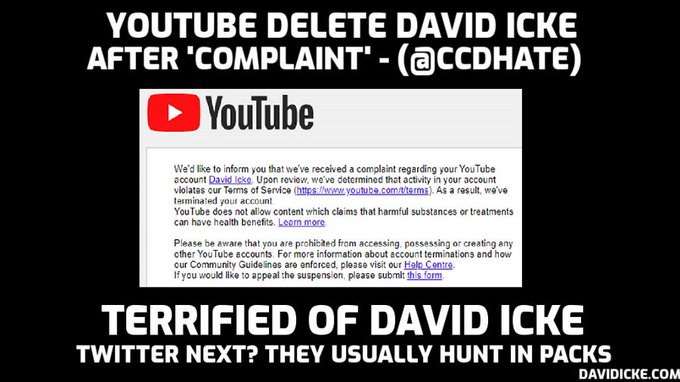 David Icke's conspiracies have been viewed more than 30M times claimed by the Centre for Countering Digital Hate (CCDH).
Read Also: Stay Home, Stay Safe and Start Freelancing
"We commend YouTube on bowing to pressure and taking action on David Icke's channel," said CCDH's chief executive Imran Ahmed. "However, there remains a network of channels and shadowy amplifiers, who promote Mr. Icke's content & need to be removed."